Yard of the Month
Yard of the Month - October 2023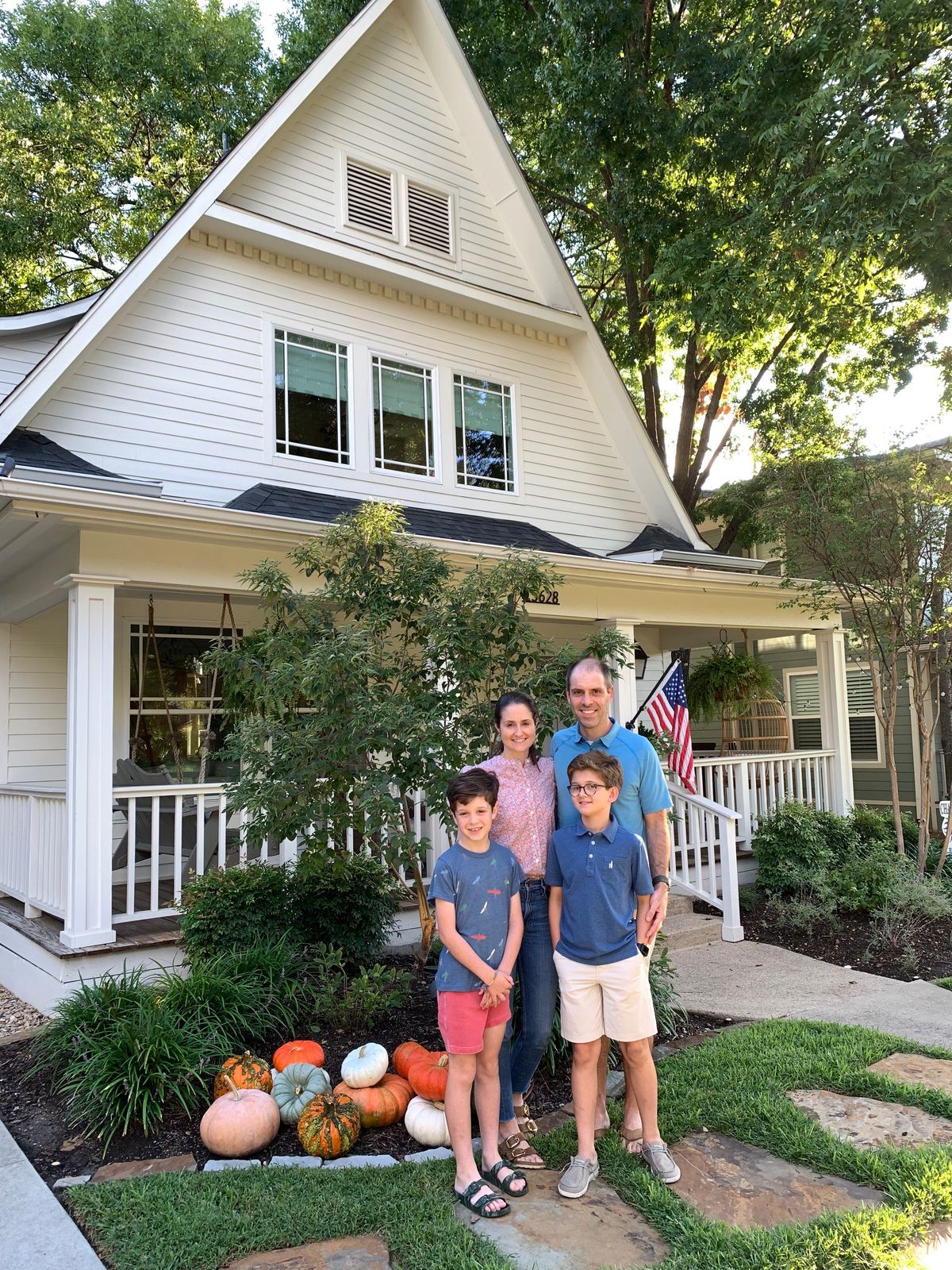 Please help us congratulate our Yard of the Month Winners for October at 5628 Miller Avenue!
Lauren and David Van Wagenen moved into their beautiful house on the 5600 block of Miller Avenue in 2016 after falling in love with the lot's mature trees (all 11 of them) and the awesome curb appeal of the white A-Frame. They are no strangers to the neighborhood with Lauren having attended SMU and the two of them residing in a previous home on Ellsworth. Lauren and David love raising their two boys, Will, 11 and Brooks, 8 in such a wonderful, walkable, friendly part of Dallas. In fact, they have been seen walking to dinner at some of the local Greenville restaurants while their boys ride their scooters, handing them over to the valet while they eat.
They love this house and this neighborhood so much that they were willing to endure an 8 month renovation inside to add their personal touch and make the home suit the growing demands of their family. They moved the front door that was once in the middle off center and to the right to provide a proper entryway and a beautiful sitting area from which to admire their front yard.
When the weather (and the mosquitos) cooperate, you might find them on their gorgeous front porch swing or in one of their two comfy chairs that greet you as walk onto the covered porch so that they can enjoy their boys swinging in the front yard. Large pavers in the grass help you easily navigate over to their driveway that leads straight back to a garage and studio apartment up above. The 10 trees (they lost one in 2018) provide a canopy of shade for their boys to play under. Lauren and David make sure to have their trees trimmed at least once a year to keep them healthy and in tact.
Lauren's love of greens and neutrals are apparent throughout the yard, utilizing various shades of green inside her bordered garden beds and hanging baskets. Lauren loves to get ideas and plant material at Redenta's and North Haven Gardens, where she learns helpful tips like spraying bleach on her pumpkins to keep the squirrels from feasting on them.
Thank you to North Haven Gardens for providing our winners with a $50 gift card this month!