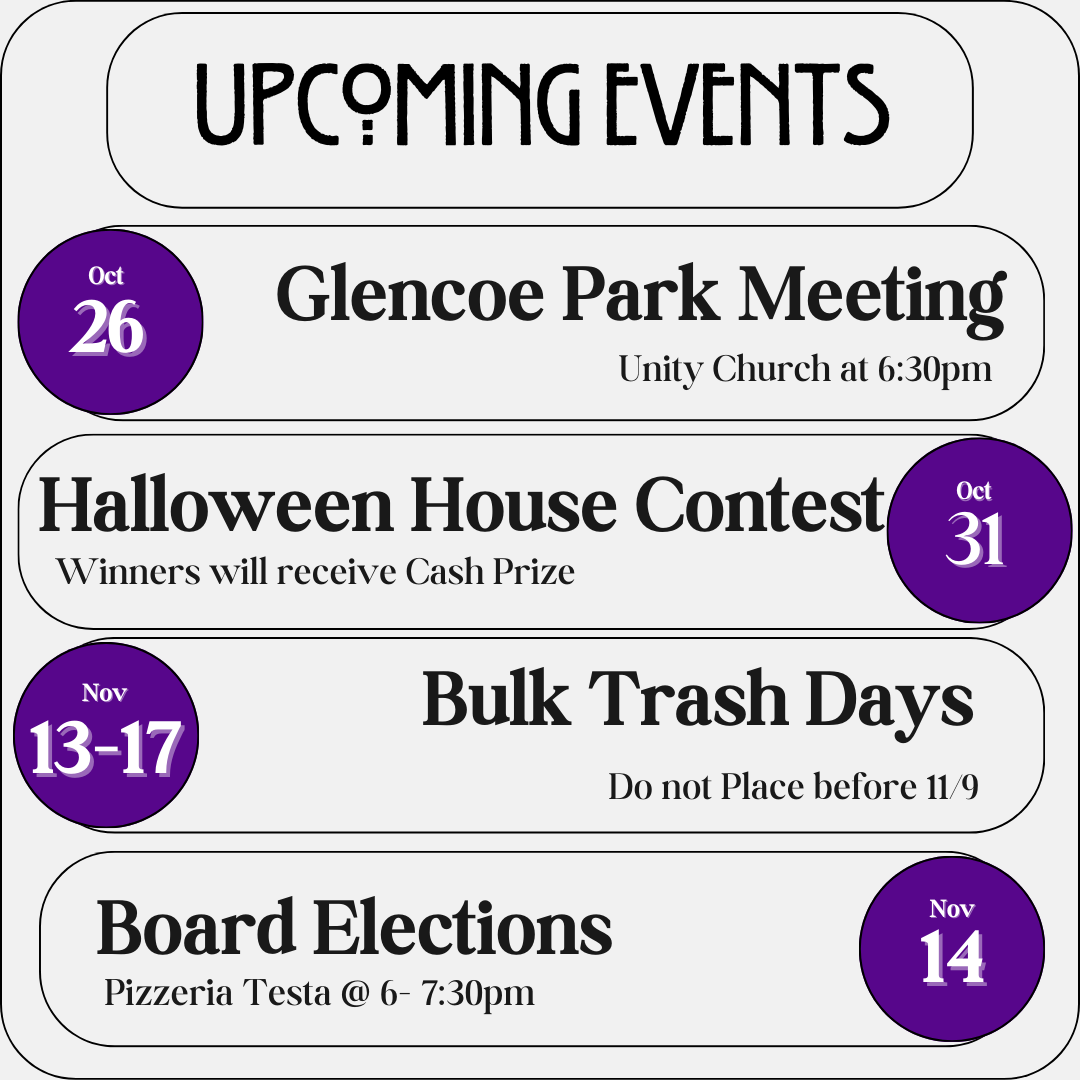 Howdy Neighbors,
We have got a double feature this month with a Digital and a Paper Newsletter. We have switched our website and newsletter to a new tool and wanted to get the word out ASAP! Let us know what you think of it at the end of this newsletter and be sure to visit the new website: www.vickeryplace.com. Let your Neighbors know about the change too! The new website should make it easier for us to contact you, update events, and collect feedback. Once you make an account, you can leave comments on the posts to more easily interact with each other! Be sure to update your account preferences if you would like to receive more than just the Newsletter! We are working on a walking group, book club, wine club, and more!

Thanks to our Sponsor UPS Store on Mockingbird Lane for sponsoring our Paper Newsletters!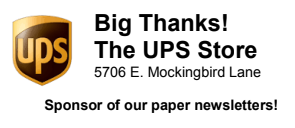 Spooky House Contest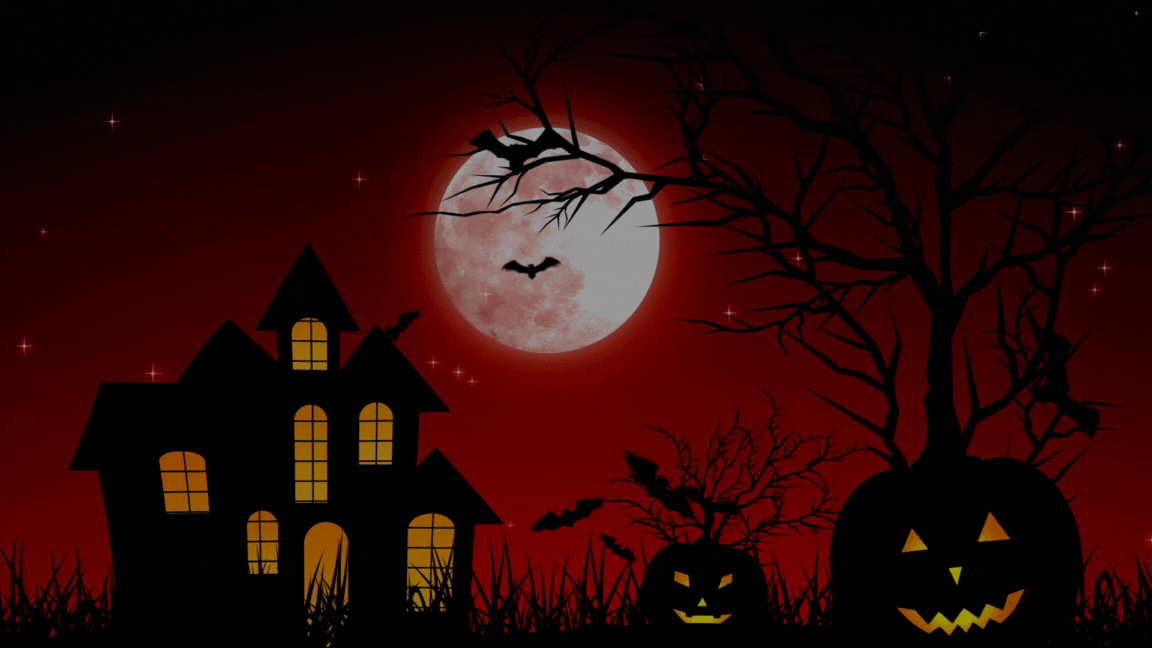 Give our neighborhood a scary good reason to walk the blocks, get to know neighbors and enjoy some serious creativity! The VPNA Board will award TWO prizes for the most Halloween-spirited front yard. The 1st prize winner will choose either $250 of wine or $150 in cash. The second prize winner will receive a $100 gift card. Both earn recognition in the VPNA newsletter!
Turn your house into a favorite haunt or just scare up some fun for your friends for Halloween!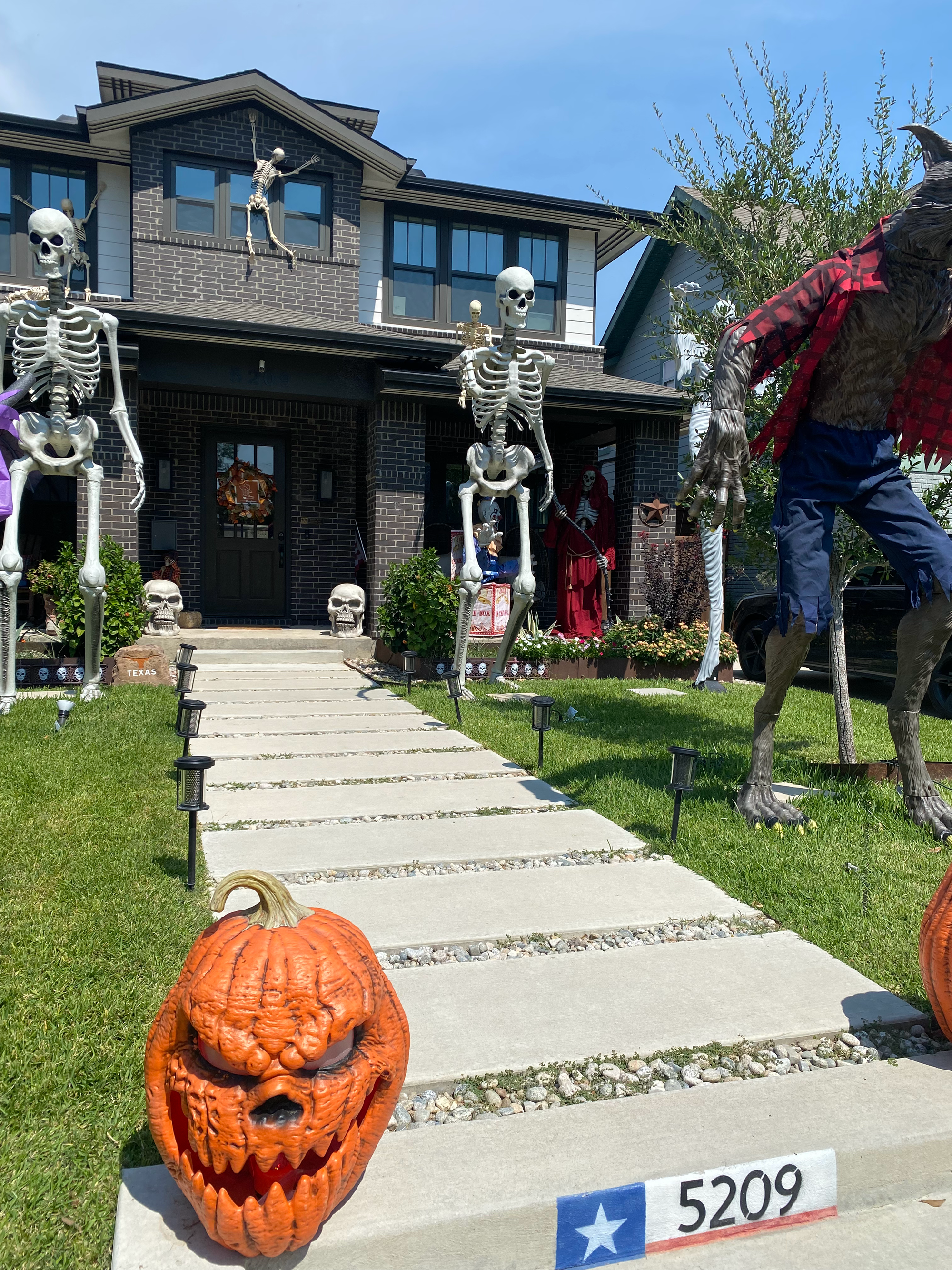 ---
National Night Out
National Night Out was a resounding success, and we owe a heartfelt thank you to our generous sponsors who made this community event possible. Your support allowed us to come together as neighbors, strengthen our bonds, and enhance the safety of our neighborhood. We also extend our gratitude to the dedicated volunteers who contributed their time and efforts to make this event a reality. Your commitment to our community is commendable, and together with our sponsors, you have helped create a safer, more connected place to call home. Thank you all for coming out and making the event a success!
We want to see your photos from the event! Upload them here: https://forms.gle/BtbMuoUXMmyHs8jn9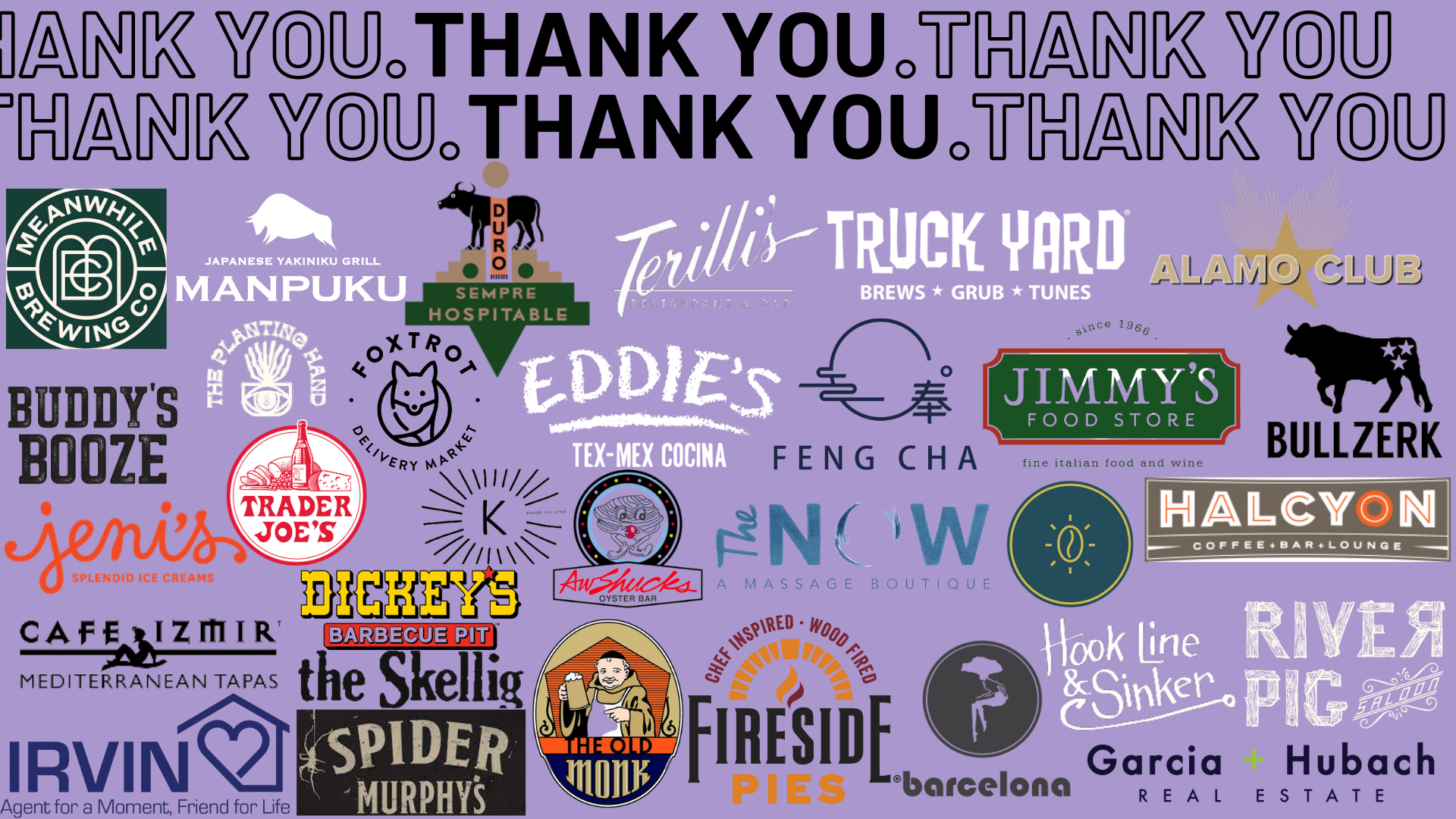 ---
Affinity Groups
In response to our results from the 2022 VPNA Neighborhood Survey, we are getting our Affinity Groups set up. All new Sign-Ups will have an option to join these group email blasts. Currently signed up neighbors can log in to their account at www.vickeryplace.com and opt in!
---
Facebook Group
You have asked, We have delivered! A Facebook Group just for Vickery Place! Please request to join https://www.facebook.com/groups/vickeryplace/ to be able to easily communicate with the rest of your neighbors! Need to borrow a tool? Find a new lawncare provider? Advertise a Garage Sale? This is the place! If you are receiving this email, you are already preapproved to join the group. We do want to keep this group private to our neighbors, so do not just approve anyone's request!
---
Block Parties
Building community spirit during the holiday season is a wonderful way to celebrate and stay connected with your neighbors. The VPNA Board is offering $250 grants to a select number of residents who wish to host neighborhood get-togethers that encourage neighbors to come together and strengthen our neighborhood.
If you are interested in hosting a holiday gathering on your block, please reach out to us at [email protected]. In your email, include the following details:
Date and Time of the Gathering
Location (your front yard)
How the grant money will be used (please provide a specific plan)
Please note that these funds cannot be used to purchase alcohol or items restricted to adults only. Instead, consider planning activities such as music, delicious treats, games to make your gathering inclusive and enjoyable for all ages. Remember, the more inclusive and welcoming your gathering is, the better!
---
Board Elections
Make sure to mark your calendars and prepare to have your voice heard! The Vickery Place Neighborhood Board Member Elections are quickly approaching on November 14th, 6:30pm at Pizzeria Testa. This is your opportunity to take an active role in shaping our community's future. Get ready to exercise your right to vote for the candidates who will advocate for our neighborhood's interests and collaborate to enhance Vickery Place, making it an even more inviting place to call home. Be on the lookout for additional information about candidate profiles and voting procedures as the date draws near. Your participation is crucial, and together, we can continue to build a more robust, livelier neighborhood. We'll see you at the polls!
---
Crime Report
The foundation for a safer residential neighborhood begins with unity and vigilance. Familiarize yourself with your neighbors and promote a sense of community awareness. Install proper outdoor lighting, fortify your home with robust locks and security systems, and maintain a vigilant awareness of your surroundings. Don't hesitate to promptly report any suspicious activity to local authorities. Working together, we can proactively deter crime and safeguard the security of our cherished neighborhood.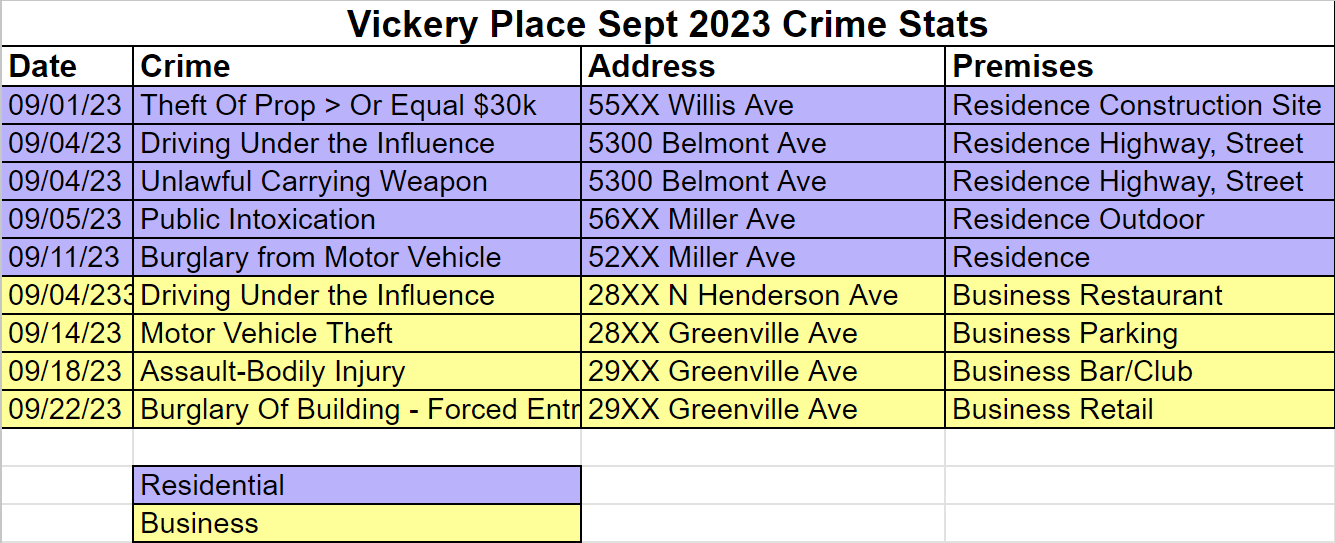 ---
Yard of the Month - 5628 Miller Avenue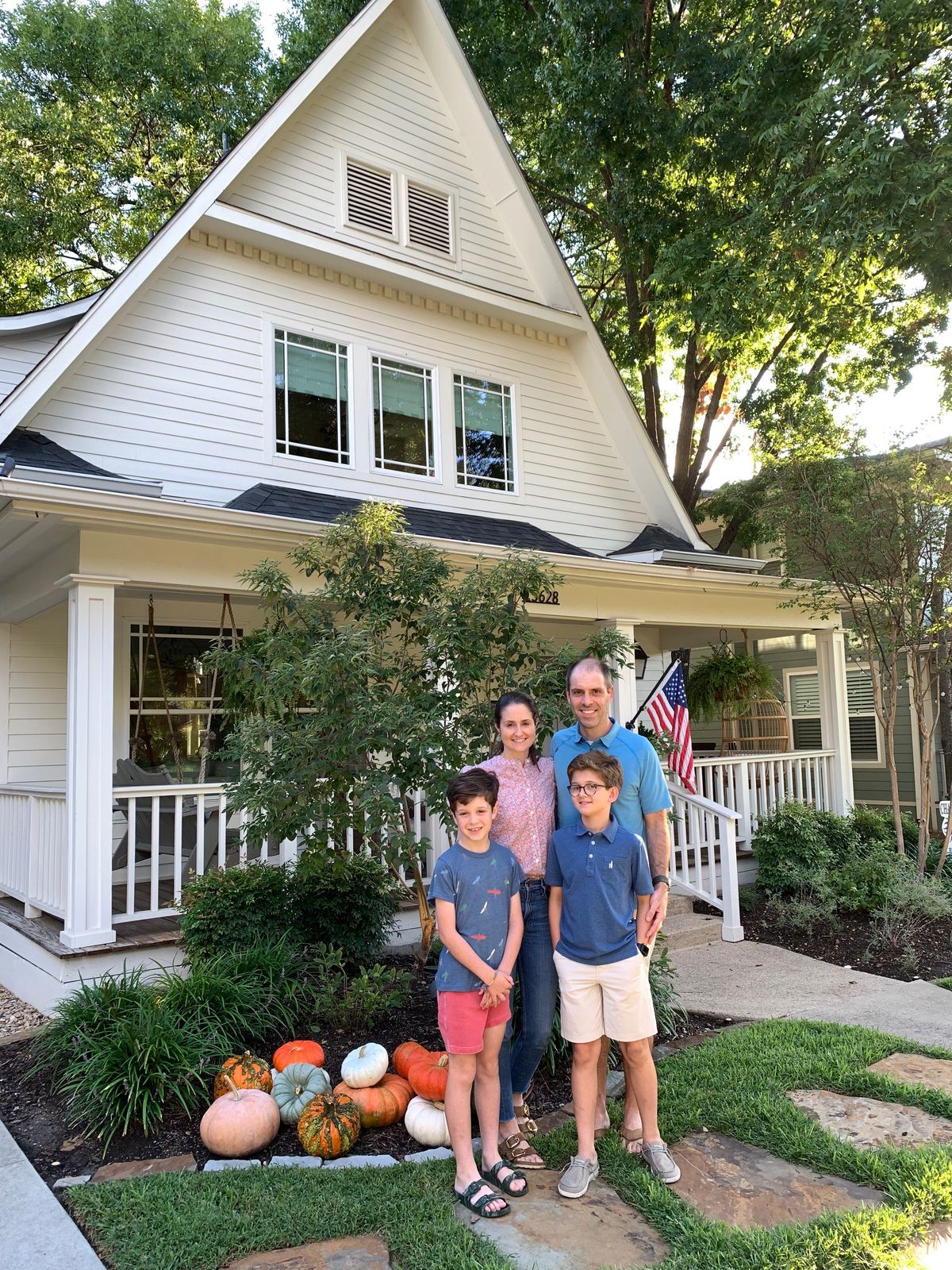 Please help us congratulate our Yard of the Month Winners for October at 5628 Miller Avenue!
Lauren and David Van Wagenen moved into their beautiful house on the 5600 block of Miller Avenue in 2016 after falling in love with the lot's mature trees (all 11 of them) and the awesome curb appeal of the white A-Frame. They are no strangers to the neighborhood with Lauren having attended SMU, and the two of them residing in a previous home on Ellsworth. Lauren and David love raising their two boys, Will, 11, and Brooks, 8, in such a wonderful, walkable, friendly part of Dallas. Lauren's love of greens and neutrals is apparent throughout the yard, utilizing various shades of green inside her bordered garden beds and hanging baskets. Lauren loves to get ideas and plant material at Redenta's and North Haven Gardens, where she learns helpful tips like spraying bleach on her pumpkins to keep the squirrels from feasting on them.
Thank you to North Haven Gardens for providing our winners with a $50 gift card this month!
Full Write-Up and More Pictures located here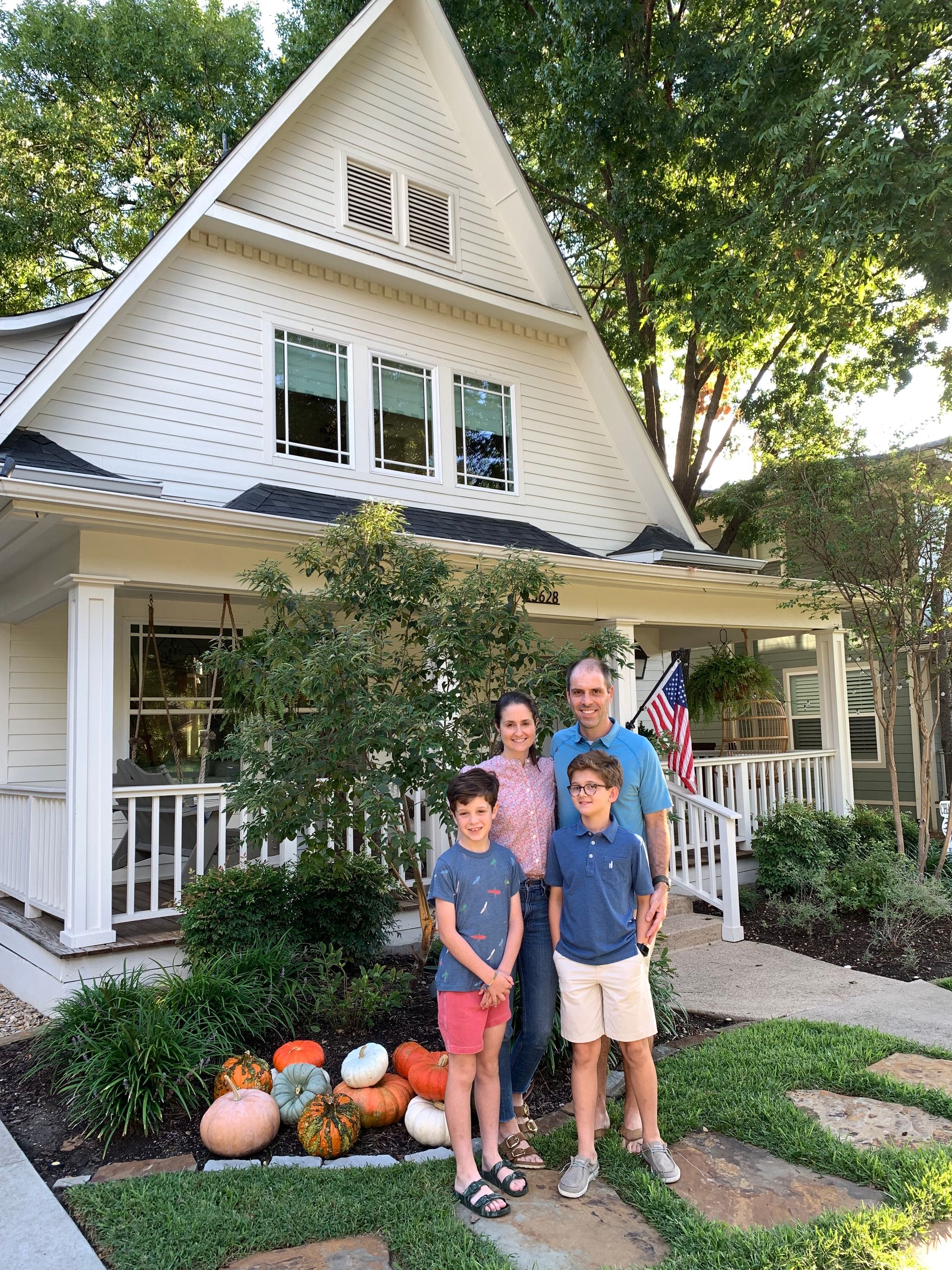 ---
Pet of the Month
At the National Night Out event, I received feedback suggesting the need for a "Vickery Place Pet of the Month" initiative! I'm hopeful that we can secure a sponsor to reward our beloved furry companions. However, for the time being, the recognition that the Pet of the Month will receive is simply the prestige and admiration of our community.
Upload a picture of your pet here! https://forms.gle/n3Ls7DNBFk9mzXJt8
---
Dallas Bond 2024 District 14 Proposed Expenditures
Total Bond Proposal : $108.7 million
Vickery Place Expenditures include the planned street repair of Homer St. :
Richard Ave. to Willis Ave. : $150,744
Willis Ave. to Miller Ave. : $152,369
Miller Ave. to Vickery Ave. : $160,003
Homer St. Total : $463,116
Specialty Destination Skate Park : $500,000
Total for District 14 : $963,116
Glencoe Park Destination Park
The 2024 Dallas Bond Proposal includes a 5000 - 7000 sq ft. destination skate park currently slated for the SW Corner of the park, where the current small baseball field sits. The original plan placed the park on the field adjacent to the pavilion and playground. Neither locations are set in stone, and a final site and design would be decided after the money is allocated.
CM Paul Ridley's appointee to the Dallas Parks and Recreation Board, Rudy Karimi, said the site was selected for its central location, close to DART, I-75, the Katy Trail, and other public transportation. As a public park, all are welcome. The skate park's target is skateboarders ages 12 – 26, about 75% of which are boys. (Another 45,500 sq ft skate park is already funded and will begin construction at Bachman Lake Park in December 2023 and a $1 million park is in the 2024 bond for Westmoreland Park too.) The planned skate park itself doesn't move forward unless it is included in the bond offering AND approved by voters. Once it is approved, the neighborhoods nearby have less influence over its design and placement.
If you'd like to hear more about the skate park and ask questions, join other neighbors for a meeting on October 26th, at Unity Church at 6:30pm.
Please send your thoughts on these to the Dallas Bond team at [email protected] and Paul Ridley's office at [email protected]. For questions specific to the skate park, connect with Rudy Karimi at [email protected] or 972-841-7839.
Also, Rudy has posted more information on Facebook, if you are a user:Link to Facebook Post

No specific plans have been developed for the skate park yet, but here are some conceptual designs that could be used.
Click here to expand Q&A from Rudy Karimi
1. Please share the other parks (finalists) considered and why they weren't chosen.
JW Ray in CD14 was the other consideration we had during our analysis. We did another site visit last night and validated why we didn't pick it over Glencoe and it came down to accessibility. It's just not easy to get to. And if it's not easy to get to, we didn't pick the best spot.
2. How many hours will the skate park be open? There is some confusion as to whether it is dawn to dusk or later and why lights are needed.
All of our parks, open at 5am and close at 11pm. Those are our official hours. That doesn't mean people pour into them at that time and leave at exactly that time. But those are the enforceable hours by DPD.
3. What is the maintenance plan the city puts in place to cover graffiti, protect the newly painted community wall, keep the park fresh, etc.?
We have a 48 hour SLA and we exercise it often in our parks. Some of our parks are tagged a LOT and I am very confident in the 48 hour turnaround to have it removed. In some cases it can be even faster with a Friends Group and volunteers.
4. Would you expect there to be a need for additional police patrols?
We are currently getting extra patrol from our Dallas Marshals and our Park Rangers at Glencoe already due to off-leash dog complaints. We can add to that when needed because of new issues.
---
Update on 53XX Block of Goodwin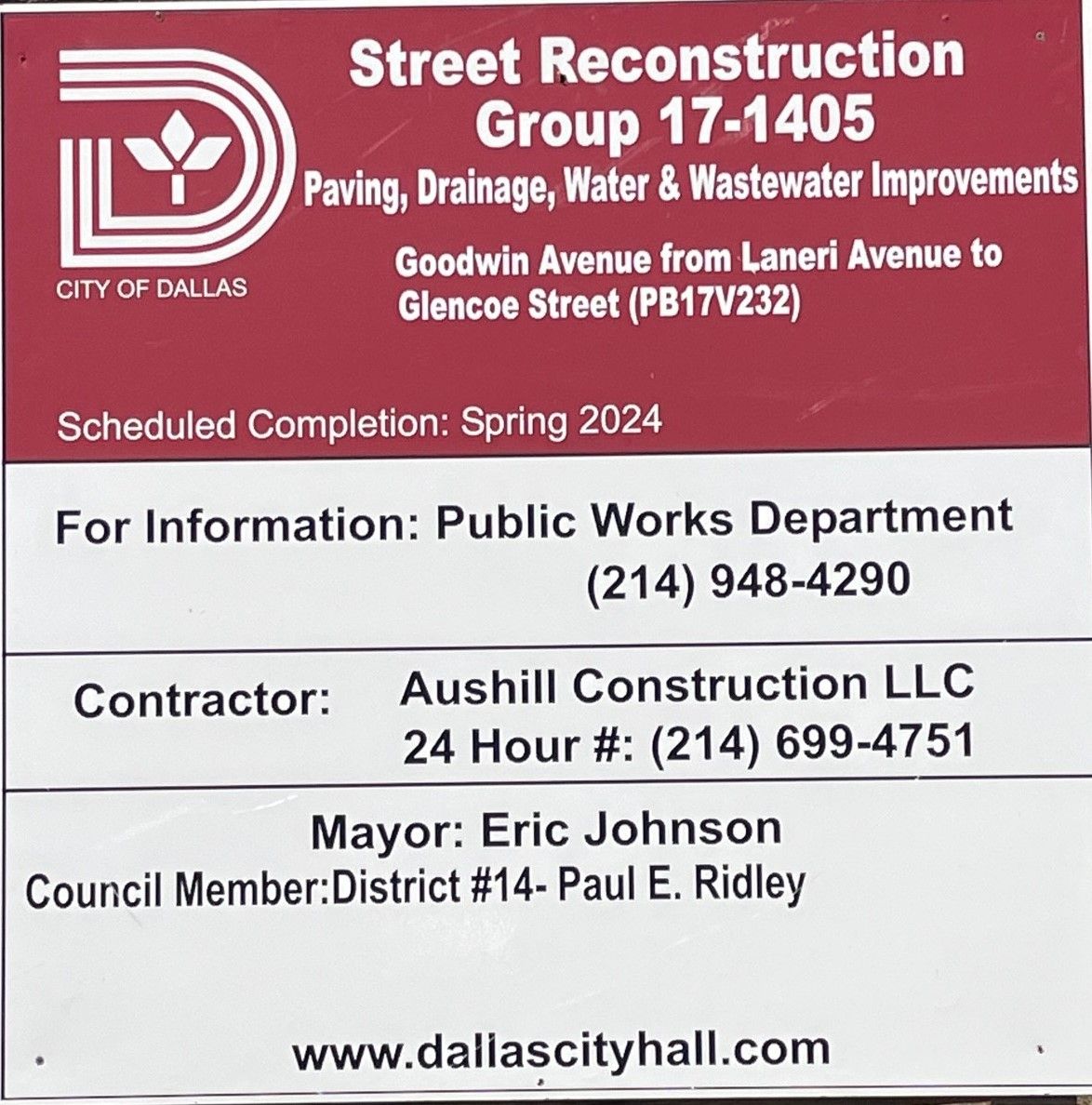 At our September General Meeting with Councilman Paul Ridley, a question came up about the long delay on the reconstruction/repaving of the 53XX block of Goodwin Ave—work started, but there has been no activity in months. Ridley's office reached out to Public Works and received the below response. If you have further concerns or questions, please reach out to his assistant, Apryl, at [email protected].
The contractor has been working on the referenced project site (Goodwin Avenue, from Laneri Avenue to Glencoe Street) since the construction start date of 03/20/2023. The contractor has been working on the water and wastewater construction. Though the water and wastewater lines installation are complete, the water main required additional water testing (hydrostatic pressure, water quality, and chlorination) to put the main in service. The coordination with Dallas Water Utilities for the required water testing is a multi-step process. However, on this project, we did encounter a scheduling issue with the water testing which caused some delay to the project. Also, the first water test samples taken did not pass and retesting was necessary which caused additional delay. The contractor is now at the final stage of the utility work and is scheduling final tie- ins/connections for the water lines. Once complete, the citizen will see more activities on-site as the contractor begins demolition for the paving work.
---
Annual Woodrowfest
The 9th annual Woodrowfest is set to occur on Friday, October 20, 2023. The event will feature a Golf Tournament in the morning at Tenison Park, located at 3501 Samuell Blvd., and a Festival in the afternoon and evening at the Shakespeare In the Park Amphitheater, situated at 1500 Tenison Pkwy. The festival includes a White Rock Ale House Beer Tent, Food Trucks, Kid's Zone with Bounce Houses, Live Music, a 50/50 Raffle, Cornhole, and Horse Shoes.
This event is proudly sponsored by the Exchange Club of East Dallas, and the proceeds will be directed toward college scholarships for deserving seniors at Woodrow Wilson High School. To learn more about the event and how to participate, please visit https://www.woodrowfest.com/.
The Exchange Club of East Dallas, with a history of 68 years of service, is dedicated to supporting East Dallas kids in becoming better-educated citizens of our community. They annually offer multiple $5,000 scholarships to graduating seniors at Woodrow Wilson High School and provide various essential resources such as coats, books, iPads, musical instruments, robotics equipment, school supplies, eyeglasses, and more to J.L. Long Middle School and the elementary schools within the Woodrow feeder pattern.
---
Greenland Hills Turns 100
The Greenland Hills neighborhood, more popularly known as the "M-Streets," is commemorating its 100th-year milestone with a Festival in the Park.
The GHNA and its Centennial Committee will host a free "Festival in the Park," Saturday, November 4, 2023, from 4:00 p.m.-7:00 p.m. at Glencoe Park, 3700 Glencoe St., Dallas, TX 75206. The event will feature live music acts, including Elise Stover, the Better Homes and Gardens singing realtor, and guitar player and singer Harrisen Viator. Food will be available for purchase from Easy Slider Texas and Greenville Avenue Pizza Company. City representatives, including Dallas Councilmember Paul Ridley, will be on hand to give a proclamation and to greet neighbors.
---
Dallas Medication Disposal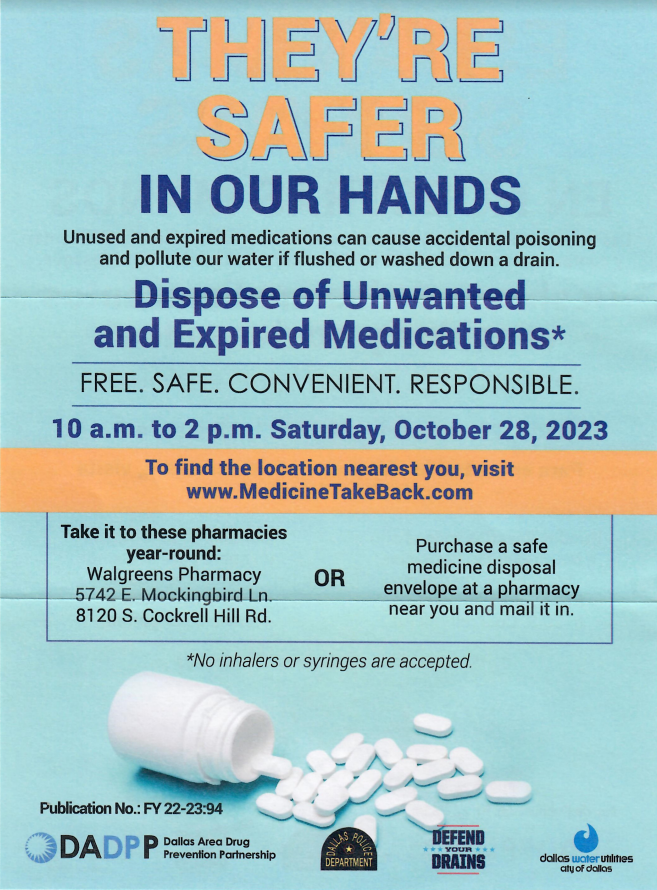 The Dallas Area Drug Prevention Partnership is urging the community to responsibly dispose of unwanted and expired medications. An upcoming collection event is scheduled for Saturday, October 28th, from 10 am to 2 pm. For additional information, please visit www.MedicineTakeBack.com.
---
Dallas Irrigation Limitations
As October marks the final month of the Time-of-Day Watering restrictions currently in effect, please stay tuned for updates on any future changes to our watering regulations.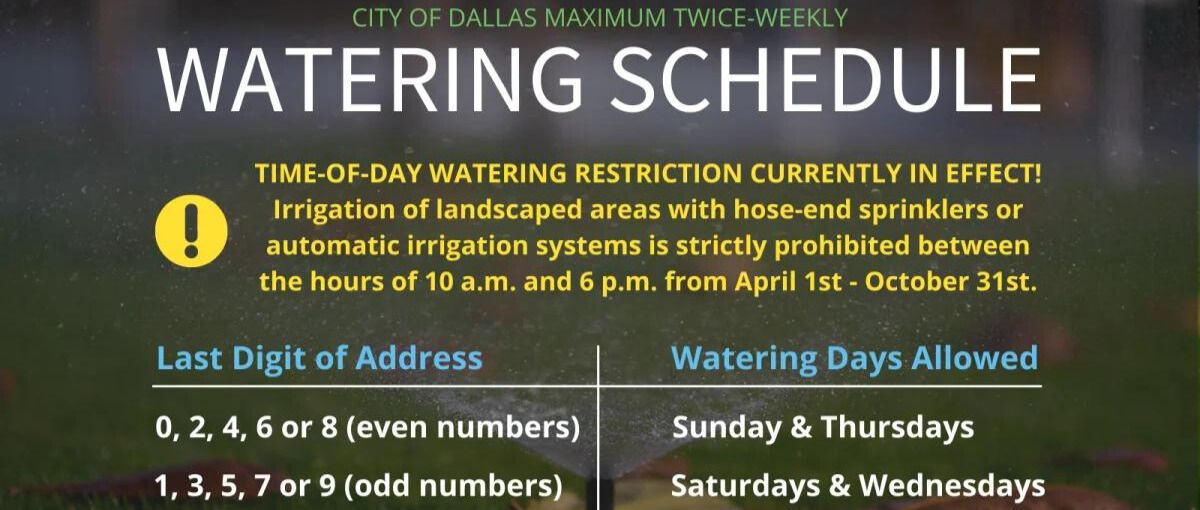 ---
Kroger Community Rewards

When you do your grocery shopping at Kroger, don't forget there is an easy way to also support Vickery Place Neighborhood Association. VPNA is a registered charity with the Kroger Community Rewards Program. A few simple steps will help raise funds to support more neighborhood activities. https://www.kroger.com/account/communityrewards/
To Connect With Kroger Community Rewards:
• Sign into your Kroger Rewards digital account (or easily set one up if you do not already have an account).
• Select "My Account".
• Scroll down to the 'Community Rewards' section of your account page.
• Select 'Enroll Now' or 'Edit'.
• Enter the name of the organization you wish to support.
• Select 'Vickery Place Neighborhood Association' and click on 'Save'.
Any transactions moving forward using the card number associated with your Kroger digital account will be applied to the Community Rewards program. It takes about 10 days for the Community Rewards totals to begin displaying on your receipt. Vickery Place NA gets quarterly rewards payments—last quarter we received $46.99. The more neighbors who shop with Kroger and connect their digital account with Vickery Place, the more funds our organization will earn! Thank You!
Thanks for Reading!
Have a moment? Let us know what you think of the new format!