Events
National Night Out: Bringing Vickery Place Together for a Safer, Fun-Filled Evening!
VPNA present's National Night Out, October 3rd from 6-9pm. Join the fun and meet your neighbors with a chance to take home big prizes!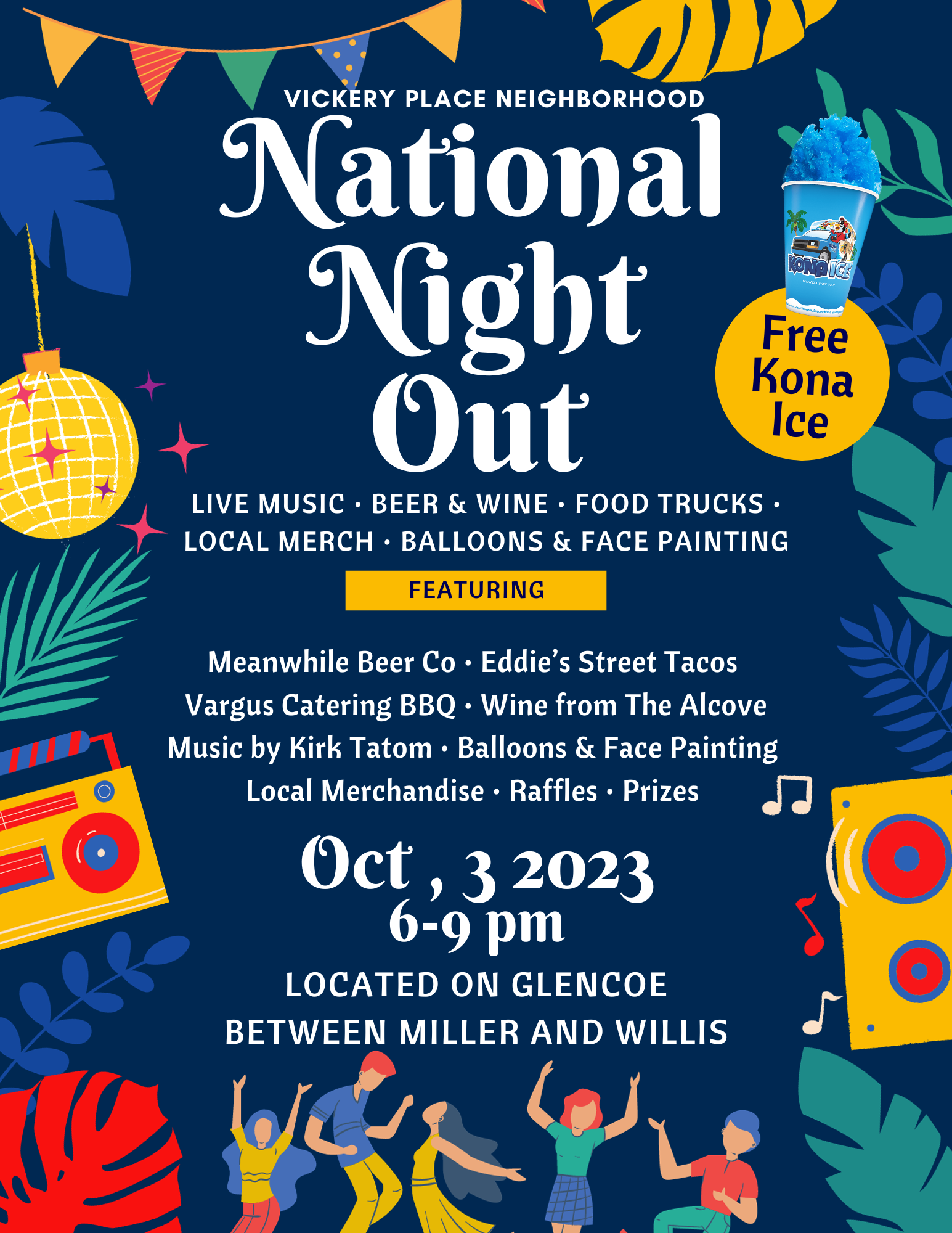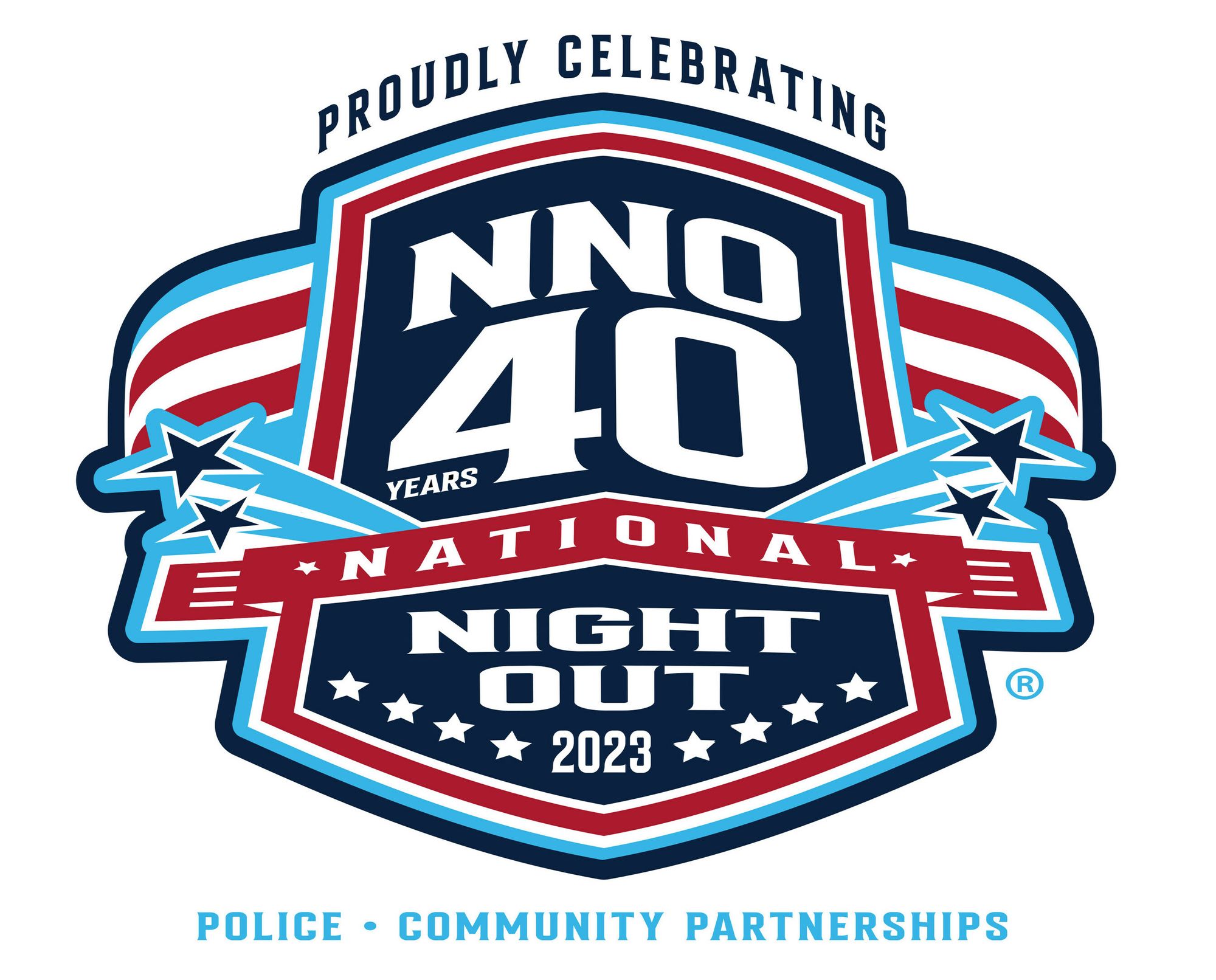 Howdy Vickery Place Neighbors!
It's that time of year again when we come together to celebrate our wonderful community and strengthen the bonds that make our neighborhood a safer, happier place to live! Get ready for Vickery Place Neighborhood Night Out on October 3rd from 6-9pm on Glencoe between Miller and Willis– it's the largest and most fun event of the year! 🌟
What to Expect!
Building a Safer Neighborhood Together: Vickery Place Neighborhood Night Out brings neighbors together to create a safer neighborhood for all! Safety comes when neighbors know and protect each other. Let's stand strong together.
💵
Some Vendors Won't Accept Credit Cards! Bring some Cash!
🍧 FREE Kona Ice: Cool off with something sweet! Kona Ice will be providing shaved Ice Treats between 6-8pm!
🍺 Award-Winning Meanwhile Beer: Sip on some award-winning Meanwhile Beer while you catch up with friends and meet new neighbors.
🌮 Eddie's Street Taco Bar: Tantalize your taste buds with the delicious offerings from Eddie's Street Taco Bar.
🍖 Vargus Catering's BBQ: Craving some mouthwatering BBQ? Vargus Catering has got you covered!
🍷 Red & White Wine from The Alcove: Enjoy a glass of red or white wine from The Alcove as you mingle and relax.
🎸 Live Music by Kirk Tatom: Get ready to groove to the tunes provided by the talented Kirk Tatom.
🎨 Balloons & Face Painting: Let your creative side shine with balloons and face painting for the kids.
🎁 Vickery Place Artisans Gift Market: Discover unique treasures at the Vickery Place Artisans Gift Market.
🚒 Dallas Fire Department: Say hello to our local heroes from the Dallas Fire Department who will be joining us.
👚 Vickery Place Merchandise: Show your neighborhood pride with exclusive Vickery Place merchandise.
🎟️VPNA Raffle: Win exciting prizes at the VPNA Raffle, and you might just take home something amazing!
This event is not just about having fun; it's about coming together as a community to ensure the safety and well-being of our neighborhood. It's the perfect opportunity to connect with your neighbors, make new friends, and strengthen the bonds that make Vickery Place special.
🎉Thank you to our Sponsors!
We'd also like to extend a heartfelt thanks to our generous sponsors who make this event possible:
Meanwhile Brewing
Duro Hospitality (Sister)
Terillis
Alamo Club
Eddie's
Truck Yard
Trader Joe's basket
Bullzerk
Foxtrot
Jimmy's Food Store
Feng Cha Boba Tea
Halcyon
Jenis ice cream
Window Seat
Buddy's Booze
Dickey's BBQ
Aw Shucks
Garcia + Hubach Real Estate
Irvin Team with Keller Williams
CafeIzmir
NOW Massage
River Pig Saloon
P's Automotive
Barcelona Wine Bar
Fireside Pies
The Old Monk
The Skellig
Spider Murphy
Hook Line and Sinker
Favor the Kind
Outside, TX
📢 We Need Volunteers!
To make this year's National Night Out truly special, we need your help! We're looking for enthusiastic volunteers who can lend a hand in various ways to ensure the event runs smoothly and everyone has an unforgettable time.
Whether you have a few hours to spare or can commit to the entire event, your support is invaluable. Here are some ways you can get involved: https://www.signupgenius.com/go/10C0E4AAAA623A7F9C52-national#/
Can't make it?
Consider making a donation to the neighborhood to help with future events like this! https://www.vickeryplace.com/shop-donate/
Don't forget to mark your calendars for October 3rd from 6-9pm on Glencoe between Miller and Willis. Let's come together, have a blast, and continue making Vickery Place the best neighborhood in town!
See you there!