Events
Meet & Greet w/ Paul Ridley, National Night Out
Neighborhood Meeting with Paul Ridley and Information on National Night Out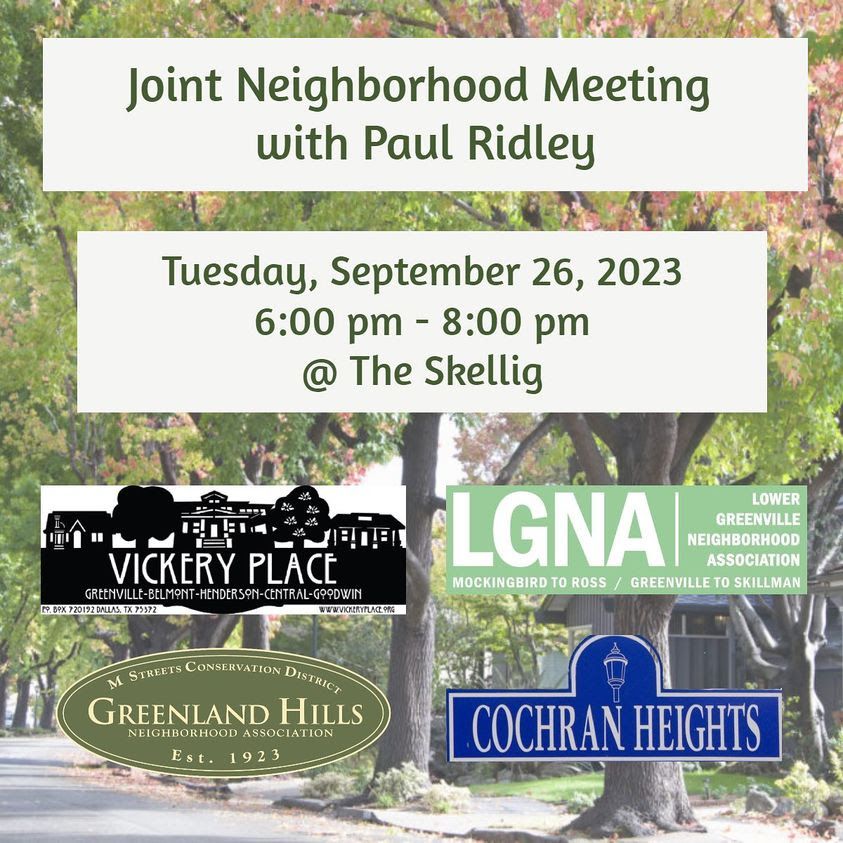 Meet & Greet with Councilman Paul Ridley!
You are all invited to a neighborhood Meet-and-Greet with our District 14 Council Member Paul Ridley, Tuesday, September 26, 6pm - 8pm at The Skellig (2409 N Henderson Ave). It is a joint event with Vickery Place NA, Lower Greenville NA, Greenland Hills NA, and Cochran Heights NA. The meeting is an open forum to discuss general questions and concerns, and find out what's happening in our district and city.

The Skellig is usually closed on Tuesday, but they are opening just for this meeting. They are graciously providing appetizers and non-alcoholic drinks. Alcohol can be purchased.

Solar Prep for Girls has agreed to let us park in their parking lot, as parking is limited.
---
National Night Out Against Crime (NNO)!!
Tuesday, October 3, 6pm-9pm
Glencoe, between Miller & Willis Avenue
All residents and friends are welcome! Vickery Place Annual Neighborhood Night Out brings neighbors together to create a safer neighborhood for all! Safety comes when neighbors know and look out for each other! Bring the kids, bring your pooch (pets must be leashed), bring your neighbor!--this is Vickery Place's largest and most fun event of the year.

Dallas Police Officers * Dallas Fire Department * City Councilman Paul Ridley & other City reps * Music provided by Kirk Tatom * Eddie's Street Taco Bar * Vargus Catering's BBQ * Meanwhile Beer * Wine from The Alcove * Balloons & Face Painting * Vickery Place Artisans Gift Market * Vickey Place Merchandise * Raffle prizes from local restaurants and community businesses.

There is still time to volunteer!--help set up, work a shift during the NNO event, clean up. Below is the link to the volunteer sign up:https://www.signupgenius.com/.../10C0E4AAAA623A7F9C52...