Council District
Vickery Place lies within Dallas City Council District 14.
Our city council representatives (and their staff) are extremely conscientious and responsive.  If you have concerns that you would like addressed with them, their contact information is found on the Dallas City Hall website.
---
Conservation District
VPCD portion of Vickery Place is in yellow.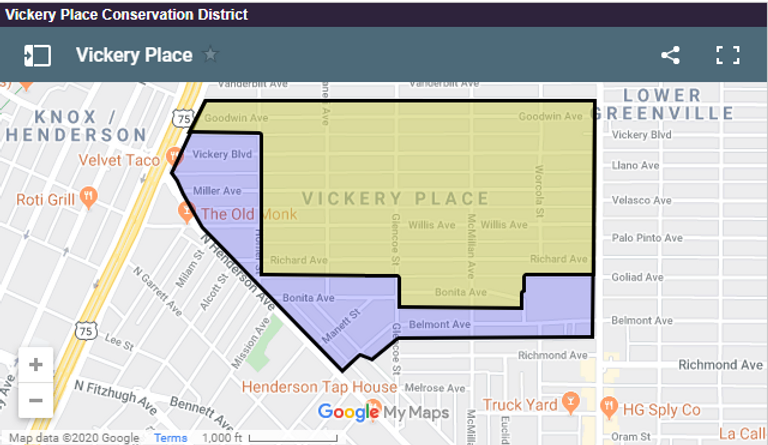 ​
Work Review Form - This is the form that the City Staff will need in order to approve work. It is very simple to complete and the city is usually very quick to approve simple changes. For simple work, a written description of the work to be done is sufficient. If significant alterations are involved, they may ask you to submit drawings. You can print the form from here and fax it to the city using the number at the bottom of the form.
City Conservation District Link for Vickery Place
Vickery Place Conservation District includes these blocks:
5600, 5500, 5400, 5300, 5200, 5100 Goodwin;
5600, 5500, 5400, 5300, 5200 Vickery;
5600, 5500, 5400, 5300, 5200 Miller;
5600, 5500, 5400, 5300, 5200 Willis;
5600, 5500, 5400, 5300, 5200 Richard;
5500, 5400 Bonita